"I want to commemorate the memory of the Syrian victims and the suffering and resilience of Syrians in the face of unimaginable violence and insults …[they] We have faced more than ten long years, "said Special Envoy Geir Pedersen, reading a series of" countless "violations of international law, including" the untold atrocities of chemical weapons. "
Shocking shot
On this bleak memory, I want to commemorate the Syrian victims and remember the suffering and resilience of Syrians in the face of the unimaginable violence and insults that all Syrians – men and women, from all regions and backgrounds – have faced over a ten long year period.https://t.co/Nsz01L9d8M

– UN Special Envoy for Syria (UNEnvoySyria) March 15, 2021
The UN envoy said that the Syrians were "injured, maimed, and killed in every way imaginable – even their corpses desecrated," with others being thrown into prisons, kidnapped, tortured, and "displayed in cages and ransom."
It highlighted displaced Syrians who have been repeatedly forced to sleep in the open in "extreme heat and freezing snow," as air strikes, barrel bombs and rockets have destroyed homes, hospitals and schools.
He said that civilians were "deprived of humanitarian assistance, and sometimes under siege in which the perpetrators starved the population …[and] I confronted human rights violations on a massive and systematic scale.
He added, "Syrian women are subjected to conflict-related sexual violence – from all sides – and the increasing incidence of early and forced marriage."
Meanwhile, citizens are forced to deal with Covid-19 A pandemic with "an exhausted and destroyed health system," the UN envoy continued, noting that most of the children did not live a day without war, and "many of them went without food, medicine, or education, were detained or recruited for battle, were wounded or killed."
A living nightmare
Over the past decade, Syrians have not seen any compromise between opposing political visions, or any real progress in talks between the government and the opposition to reconcile them, according to Mr. Pedersen.
Moreover, those responsible for actions that "may amount to crimes against humanity or war crimes" enjoy near complete impunity, which not only undermines the peace agreement, but also perpetuates the "living nightmare" that was living in Syria, he said.
All Syrians saw the international community as divided, caught up in geopolitical competition, stuck in their competing narratives, and often focused on supporting one side. [or other] In conflict. "
He said that the world has not succeeded in helping to achieve peace for ordinary civilians, stressing the need to find a way to overcome the "you first" syndrome that "characterizes a lot of diplomacy" there.
He warned that "at the present time, there are demands from all sides but little movement from any side."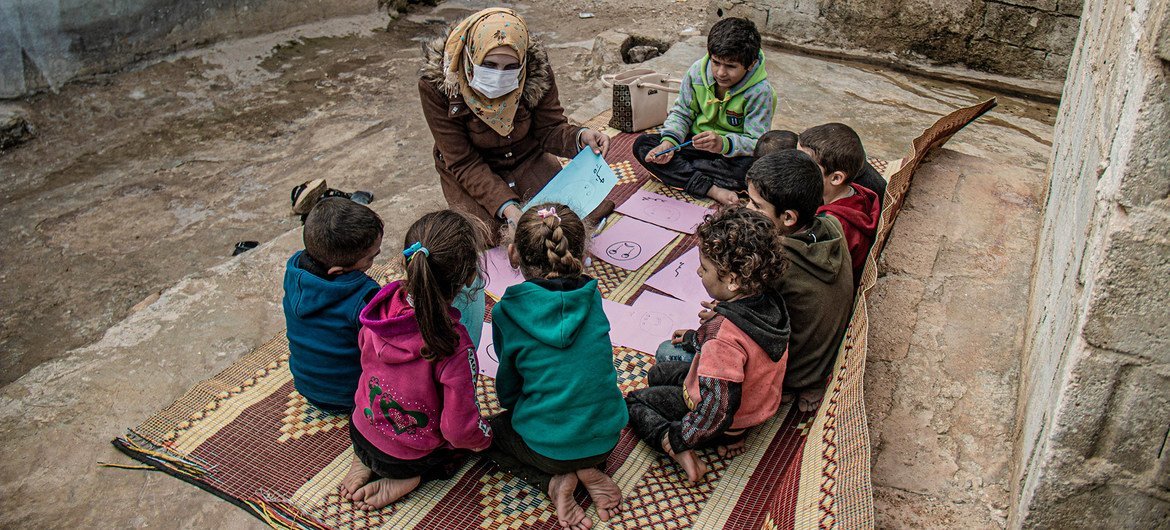 © UNOCHA / Mahmoud Al-Basha
A health worker talks to displaced children about their hopes and fears in Atma camp, Syria.
Political solution
Going forward, the UN envoy stressed that the Syrian government, the opposition and major international players must determine not only what they hope to achieve, but how they can move forward. Resolution 2254Which calls for a ceasefire and a political settlement in the country.
He said, "While there are many pressing challenges, do not lose sight of the fundamental importance of a peaceful solution to the Syrian conflict." "A political solution is the only way out – and I'm convinced it's possible."
A long decade of trauma
Meanwhile, Bernard Duhime, current member, president and former rapporteur of the association The United Nations Working Group on Enforced and Involuntary Disappearances, He spoke of a systematic and "flagrant" violation in the country, saying that although the cases identified by the United Nations represented only the "tip of the iceberg", requests to visit the facilities were refused.
A political solution is the only way out – One envoy
He also briefed the Council on the "immense suffering" of Syrians looking for information
Concerning the situation of disappeared loved ones, and clarify efforts to identify victims, including exhumations, to help close families after a decade of trauma.
Mr. Dehaimi drew attention to this serious crime and detailed the efforts of the working group to assist families in securing information about their loved ones and calling for their release.
I wish it was a dream
In honor of the enduring and fragile resilience of the Syrian people, on Monday the United Nations joined forces with the Messenger of Peace and the legendary cellist.Yo yo maA nonprofit organization, Silkroad, to release"I wish it was a dream": Voices from Syria.
In a four-minute "Sound Scene" blending 100 self-recorded messages from Syrians with music by the famous Syrian clarinet player and Silkroad artist Kinan Al-Azmeh, the project highlights a decade of live testimonies.
He drew the audience's attention to The plight of 13.4 million people inside Syria In need of help, it is launched ahead of the Secretary-General's pledge event for Syria, on March 30th, to remind governments to allocate resources to efforts to save lives.