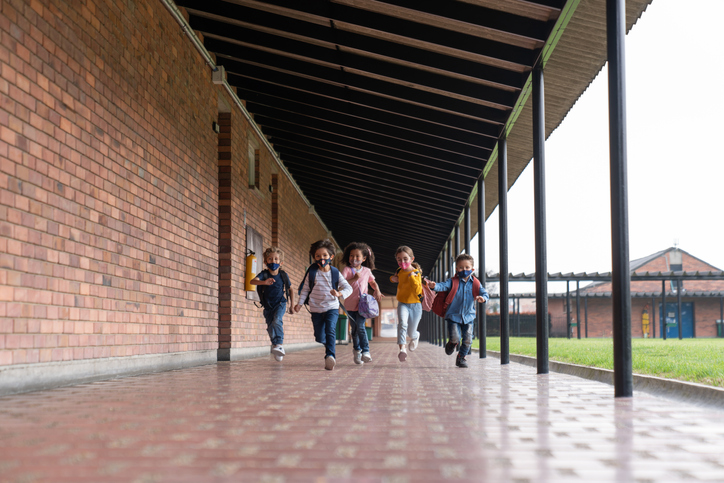 It's amazing how an ordinary thing like attending school can become frightening and overwhelming during a pandemic.
While some children have been going to school throughout the pandemic, most have been learning from a distance, or in a hybrid model for some from a distance and some in person. As we cross the one-year mark, it is becoming increasingly clear that children need to return to their school routines in the pre-pandemic period. It is not just education that has suffered. Being Isolated at home It is harmful to the mental and physical health of children as well.
The problem is that the epidemic is not over yet. While vaccines give us hope, children under 16 cannot be vaccinated, and access to vaccinations for teachers is unequal. Understandably, many people prefer not to make any changes yet. Instead, they want to wait until the next school year, when more adults will be vaccinated and high school students may qualify for the vaccinations.
Waiting can hurt more
But much is already lost, and many students and families are in crisis. Even for those who aren't in crisis, turning away from computer screens, returning to personal tutoring and seeing friends, not to mention some physical activity – can make a huge difference for many students, even if it's only for a few weeks.
Most school districts offer and will continue to provide a remote option – and for children and families at high medical risk who have not yet been vaccinated, this may be the best option. But if no one is at high risk in the household, and if community numbers are low, then school is likely to be safe. It is also the best educational option.
It is important that you know what your school plans are
Spacing: What is possible? What will the classrooms and lunch rooms look like?
Masks: Wearing well-fitted masks reduces the risk of spreading the virus that causes COVID-19. Staff and students must wear them – even if the staff has had the vaccine.
cleaning hands: There should be regular opportunities for staff and students to wash their hands, and hand sanitizer should be available.
Examination of symptoms and exposure: There should be daily screening for any symptoms of COVID-19, or any exposure to someone with the disease – and clear protocols for isolation and testing before returning to school.
Track contacts: If a staff member or student is found to have COVID-19, there should be a clear system in place to identify and notify all potential contacts, with a clear plan for quarantine and testing.
Breathing: The more air, the better. This is more feasible in some buildings than others.
Cleaning: Common surfaces must be cleaned regularly.
Meals: Students should be spaced safely while eating, and any meals served must be prepackaged.
How can parents help children prepare for return to school?
Some students have not been to the school building for a year. Parents may need to do some preparation, such as
The practice of wearing masks: It is not easy to wear masks for hours at a time, and families may want to practice it.
Get used to keeping distance: If students have only been with family members or others in their dining room, they may not be used to the idea of ​​staying three to six feet away. Families will need to talk about this, and you may want to practice this as well.
Plan for hand washing: Get in the habit of doing this regularly at home so that it is easier for you to remember at school.
Changing schedules: After a year of getting out of bed (or not) and starting to study on a computer, it can be difficult to get up early, get dressed and commute to school. It may also require an early bedtime. It can be helpful to adjust to these schedules a few days in advance.
Have conversations about what it will be like when you are in class again: While kids learning online have to follow the rules of class from afar, they may have forgotten the rules of in-person class. Talk about how it would be different.
Meal planning: Meals look different in schools these days, and lunch wrapping might be your best bet. It can be helpful to do some planning and shopping (for easy food, a lunch box, and a bottle of water).
Be prepared for some difficulties in the transition phase, and set aside time each day to talk to your child about his feelings and experiences. It could be an open question "high / low" at dinner, or some other screenless time where your child can get your full attention. Keep questions open and ask them in the most supportive way.
If you have questions about your child's specific condition, talk to your doctor.
.