There's no denying the healthy taste of granola – it's a sweet and crunchy snack that's kid-friendly and easy to eat on the go.
But the calorie and sugar content of store-bought granola can add up quickly.
"Granola is one of those tough-to-market products that big food companies like to consider 'healthy' when you really add a lot of added sugars, oils, and preservatives," Ashley Nader, research and development
That doesn't mean you should miss out on the nutrients that granola provides — or the delicious flavor.
Learn how to make healthy granola at home, and you'll be able to enjoy this simple and versatile snack in a way that nourishes you.
1. Start with the dry ingredients
Oats are the base of choice for healthy homemade granola.
On top of that, you can add some variety to your granola by choosing one nut, one seed and one dried fruit to add to the mix.
Nuts provide "a healthy dose of plant-based protein and important nutrients like vitamin E and potassium," he says Mackenzie BurgessRDN, registered dietitian and recipe developer at Cheerful Choices.
You may want to include one type of chopped nut (such as pecans) and one type of whole nut (such as almonds) for extra texture.
Just be sure to buy raw, unsalted nuts.
If you're making this granola as part of a nutrition plan for weight loss, be aware that although the nuts are healthy, they are calorie dense.
Pumpkin, hemp, and sunflower seeds are good choices, but Burgess prefers chia seeds in her granola because these small but powerful seeds provide heart-healthy omega-3 fatty acids.
Think of unsweetened dried fruit as more of a seasoning than a main ingredient in granola.
The calories can add up quickly, but a little sprinkling brings delicious pops of chewy texture and sweet flavor.
Consider using freeze-dried fruit – it has a crunchier texture than conventional dried fruit and has no added sugars.
2. Add spices
Cinnamon is a classic option, but feel free to experiment with your creativity.
Pair cinnamon with cloves, nutmeg, ginger, and allspice for a pumpkin spice granola.
Or, if you're feeling adventurous, use Chinese Five Spice to give healthy granola the warmth and sweetness you love from cinnamon, with a hint of licorice flavor.
3. Choose wet ingredients wisely
This step is where homemade granola will differ significantly from the prepackaged granola in the grocery store aisles.
While store brands use canola or soybean oil, you can choose virgin, unrefined Coconut Oil and control the quantity.
You'll also want to choose a sweetener—something less processed than the high-fructose corn syrup found in many store-bought granola brands.
Maple syrup and honey are both strong options, and you can use just enough to sweeten to your taste without overdoing it. Stevia and monk fruit are good sugar-free options.
Nader notes that you don't necessarily need to use sweeteners in your healthy granola—you can add a little sweetness with dried fruit or flavorful spices like cinnamon, nutmeg, and pure vanilla extract instead.
4. Mix the dry and wet ingredients separately
Combine nuts, seeds, dried fruits (if you're using them), and spices together.
If you're using coconut chips or chocolate chips in your granola, set them aside for now—you'll add them in the last step.
Set this mixture aside and mix the oil and sweetener in another bowl. If you are adding vanilla extract to your recipe, this goes with the wet ingredients.
5. Pour the wet ingredients over the dry ingredients
Mix to coat your dry ingredients as closely as possible. (No one wants a dose of dry oats.)
Transfer this mixture to a baking sheet lined with parchment paper or a Silpat baking sheet.
If you like granola with large chunks, don't spread the mixture thinly. The oats, nuts, and seeds need to be close together to bake into those perfectly crunchy clusters.
6. Bake until golden brown
Bake the granola mix at 325°F for 25 to 30 minutes, stirring every 10 minutes, or until granola is light golden brown and crisp.
Watch your baking sheet to make sure there are no lumps too crunchy at the edges.
If the granola browns unevenly, you can use a spoon to gently stir it about halfway through baking time.
7. Save the coconut and chocolate for the end
If you're eyeing shaved coconut or chocolate chips as granola ingredients, there are specific steps you need to take.
The chocolate chips should be added at the end when the granola comes out of the oven and has cooled to room temperature – otherwise you'll end up with a mess.
Shaved coconut turns brown faster than the other ingredients listed above.
If you're keen on using it, add it about halfway through the baking time so it's golden but doesn't cross over to the burnt area.
Creative ways to use healthy homemade granola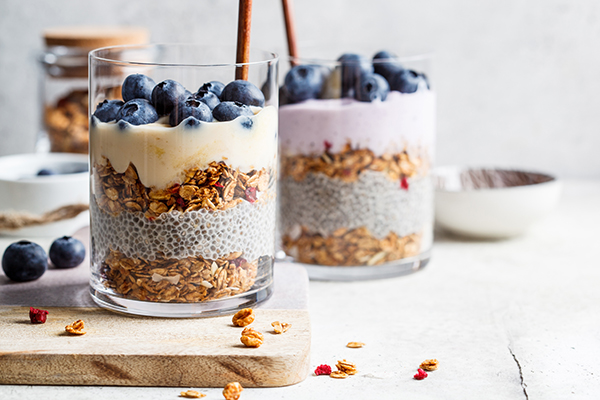 Now comes the fun part: think of different delicious ways to enjoy healthy granola.
Healthy homemade granola can still add up, so Burgess recommends sticking to a 1/4 or 1/2 cup serving based on your calorie needs.
Make "nature's pills"
Here's a special recipe for Nader: She puts a serving of healthy granola in a bowl and adds fresh, chopped fruit, like bananas and strawberries.
Then top it with unsweetened almond milk.
Add protein by using regular milk instead of almond milk or by mixing almond milk with protein powder before pouring it over the fruit and granola mixture.
(For a more balanced breakfast, enjoy it with another source of protein, such as two hard-boiled eggs.)
Put a layer of Greek yogurt or make a parfait
A sprinkle of homemade granola makes a bowl of Greek yogurt even more flavorful and complex.
Add fruit if you want something more like parfait, or put the ingredients in a glass for a real parfait experience.
Take it on the go as a snack
Granola is an easy on-the-go snack when packed into a bag, especially if you make sure your recipe includes batches of oatmeal.
Pair it with something that contains protein, such as a protein shake or drinkable yogurt.
sprinkle it on the power
You may be more accustomed to delicious toast, but healthy, homemade granola also brings a welcome crunch to your vegetable bowl.
Granola is the perfect topping for goat cheese and strawberry salad!
Add it to frozen desserts
The sprinkles are great, but they don't bring much in terms of flavour. Nader suggests spraying ice cream or frozen yogurt With homemade granola instead.
Want more expert nutritional advice and tips? head over to BODNutrition.com to learn how Beach Body Nutrition programs and products can help you lead a healthier lifestyle.