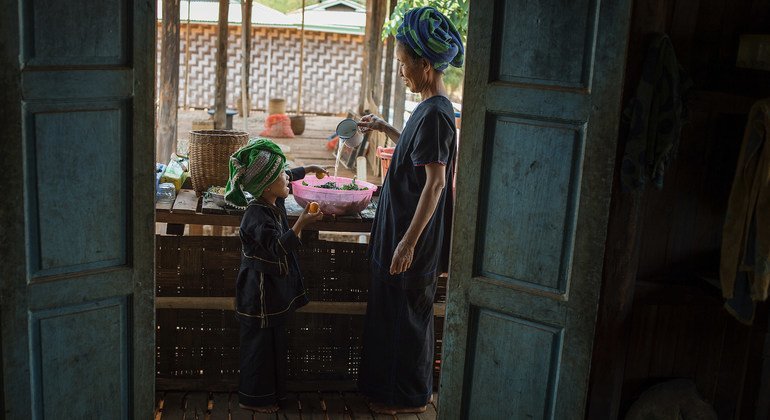 The operation will focus on impoverished towns in major cities in Myanmar and "other areas where there has been a recent population displacement" since the February 1 coup. World Food Program He said in statement.
Within the next six months, the UN agency has warned that an additional 3.4 million people will suffer from hunger, mainly in urban centers, in addition to the 2.8 million people who were food insecure in Myanmar before the military seized power.
"More and more poor people have lost their jobs and become unable to afford food," said Stephen Anderson, WFP Country Director in Myanmar.
"A coordinated response is now required to alleviate immediate suffering and prevent an alarming decline in food security."
Pushed to the edge
The United Nations agency reports how families in Yangon and around Yangon have been "pushed to the edge of a precipice," skipping meals, eating less nutritious foods, and taking on debts to feed themselves.
The World Food Program said that this is largely due to the poor losing their jobs and income, making it difficult for them to bear the costs of food, noting that vulnerable groups in urban areas affected by the economic stagnation were more vulnerable, while rural residents are likely to face pressures. The long-term. -term.
In Yangon, the World Food Program intends to assist 10 of the poorest towns with large informal settlements.
She added that "the World Food Program is monitoring the situation in other parts of the country, and is ready to provide assistance to affected communities, including those newly displaced by the armed conflict, if necessary."
Rising prices
The latest Monitor the market from the World Food Program He explains that nationwide, average rice prices have risen 5 percent since January, while cooking oil now costs 18 percent more than it did in February.
Price increases were particularly high in the border states including Rakhine, Kachin and Chen.
"In Kachin State, rice prices have increased by up to 43 percent in some towns and cooking oil by 32 percent," the World Food Program said.
"The price of fuel has increased by about 30 percent nationally."
Although insecurity persists in the border areas, the World Food Program has insisted that it continues to provide assistance to internally displaced people and other vulnerable populations. In March, it said it had reached 374,000 people in conflict-affected areas in southern Chen, Kachin, Rakhine and northern Shan states.
In the coming months, the number of people the program helps will nearly triple – from 1.3 million to 3.3 million. To do so, the World Food Program launched an urgent appeal for $ 106 million.
"To prevent a large-scale humanitarian crisis before our eyes, we must escalate it. We are counting on the international community to continue to stand by the people of Myanmar," said Mr. Anderson.