fight misinformation
"When people call the radio station, they may be telling the truth, but they may also spread hate speech, and people often ask me to tell them if some information they've heard is true or false.
That's why journalists need to travel across the country, so we can see with our own eyes what's really going on on the ground, and how societies struggle to survive on a daily basis.
Many people in the capital have no idea what is going on in the interior of the country. They can eat and drink whatever they want, and roam around in peace and security, but when you travel inland, you can see that there is a crunch. People are not free to express themselves or do their business freely.
I joined Small Aiming to do my duty to bring peace to my country, I believe my work with Guira-FM has a positive effect, but sometimes it can be frustrating. People will come to me and say, "We want you to help us, we want you to be able to support us, but you can't solve our problems." All I can tell them is that help will come later, and my heart explains that I can do no more. So, it is important to share the stories of the people we met and talked with on Guira-FM.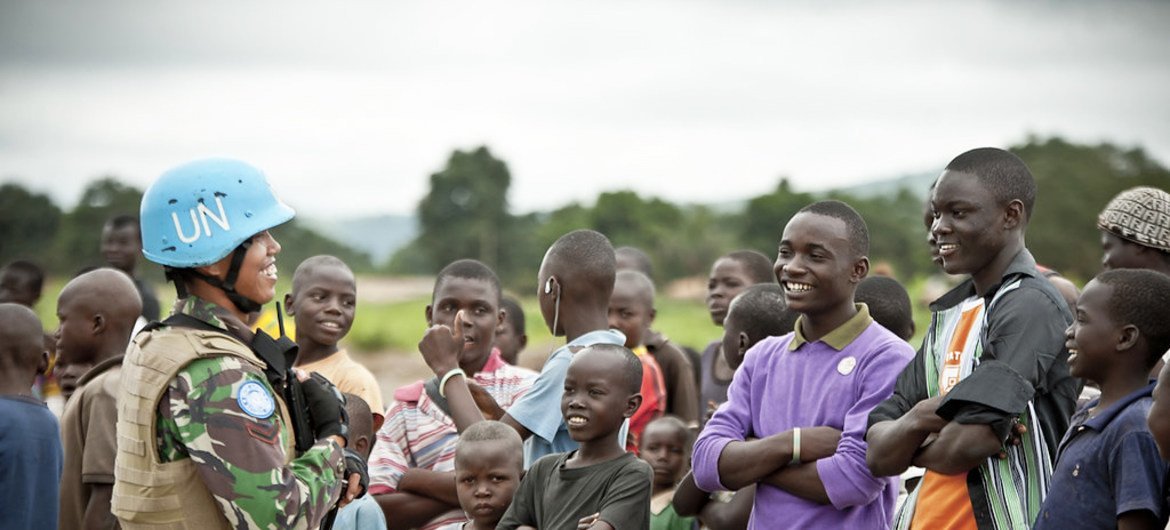 UN Photo / Katian Tigrina
The protection of civilians is a key role of the United Nations peacekeeping mission in the Central African Republic.
Transforming women's lives
When I was assigned to Kaga-Bandoro, which is about 300 km from Bangui, I was the only woman from Guira-FM working in this field. At times, it may pay off to be young and female, with a family far away in the capital. People want to help, and because I'm young, other young people find it easier to talk to me, and tell me things that older people don't want.
But women in places like Kaga-Bandoro face many challenges. Many of them want to learn professions, but in some regions only boys are allowed to study, in others there are no schools.
So, we started using the local time slots made available by National Radio
A station for making programs focused on women, and it seems we've made an impact. If you go to Kaga-Bandoro today, you will see that women are already starting to contribute a lot. Not only in professions like tailoring or hairdressing, but even on construction sites, you can see that women work among men, who no longer think the industry is just for them.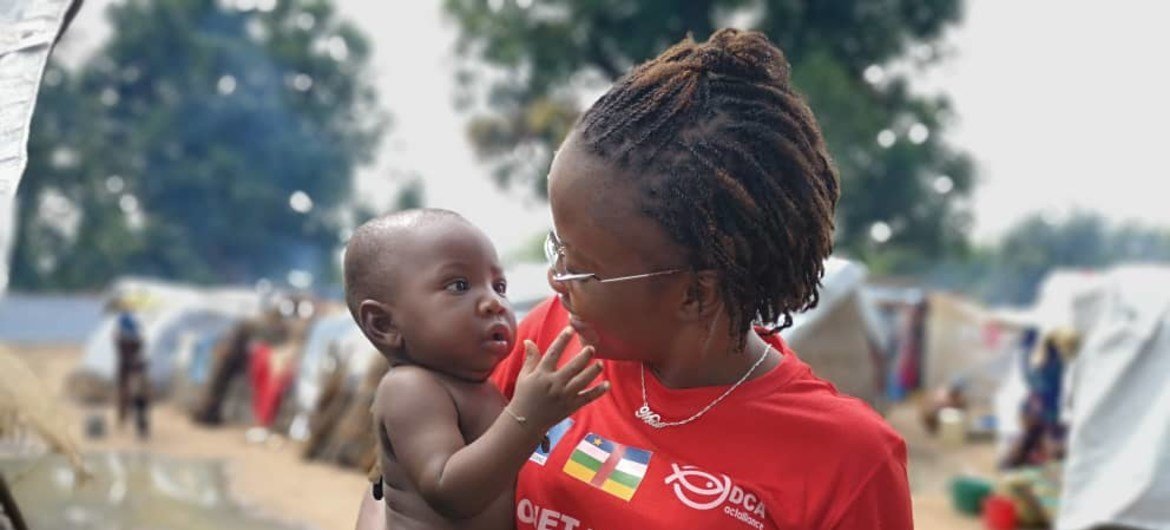 Small
Guerra FM reporter Merville Noela Mada Yayoru holds a young child in Birao IDP camp.
Peace must return someday
The citizens of the Central African Republic need to see that we are all one nation, and that we must work together to rebuild this country.
When I think of peace, I think of what I saw in a camp for internally displaced people in Birao, more than 1,000 kilometers from the capital, near the border with Sudan.
I was trying to meet someone when an 18-month-old, completely naked, came to me. The baby just wanted to be with me, so I held her in my arms and continued the interview.
I said to myself, if there is peace, this child will not be in a camp for internally displaced people, but will be with her family in their home, living in peace, perhaps in Bangui. There are many children like these in IDP sites, who would like to return home, but cannot due to insecurity. One day, peace must return, so that these children can find their place."