In a previous life, Johnny May's attempt against Italy at the Six Nations Championship on Saturday was the number one topic of post-match discussions in pubs across England.
The first thing to enjoy was the fact that, at a fraction of a thousandth of a second before he jumped in, it seemed as if there was no path to success.
Then it was all about the jump – and certainly the Olympic high jump proportions – and the slow-motion replay that shows the arms of Italian winger Luca Sperandio locking in the air.
Then came the landing, he showed the athletic prowess of the best player in the NFL as he managed to get the ball to the ground before his legs landed.
It was an acrobatic moment that had to be replayed on the big screen when fans were finally allowed to return to Twickenham.
A moment that makes you forget that you are closed and any post-match chat can only happen by default.
But that's all it was – just a moment.
a 41-18 victory The score against Italy was respectable enough, however – even though Monte Euan was his first guest to score, the win wasn't really in doubt.
What fans were looking for was performance. Something to showcase last weekend's unexpected loss to Scotland was the exception, not the new rule.
Once May's attempt is covered and there has been some interest in Anthony Watson's excellent contribution, the discussion should turn into cold and hard facts like the semi-frozen grass of Twickenham.
Doing the dazzling wings in England might be a misdirection for the temporary magician, but that isn't enough to distract from some of the less aesthetically pleasing elements of a win.
After the agonizing defeat to Scotland, England needed to fulfill the promises made at the start of the month about a new offensive.
There was an undeniable individual brilliance from Mayo Watson and Henry Slade, who appeared fraught with their first home loss to the Scots since 1983.
But there were also those who were left out in Twickenham Cold.
England committed 18 errors in total in maneuvering – three times as much as their opponents, with Captain Owen Farrell and 100 captain Ben Younes each contributing.
There were four hits, and even though England managed to lift the countdown for its 15 kicks against Scotland, she still had a talent for Italy 12.
Against the Six Nations Trash Ride, May and Watson have provided more than enough for the breakthrough ball.
Of course, Jones was happy to answer his stars' questions after the match.
The Australian said May – who has now clearly moved into second place on England's all-time scorers' list – was "clearly watching the rugby league tapes" as inspiration for his finish.
Jones continued: "It was very cool." "I haven't seen him do it in training like this but he's a good try. He's always looking to see how he can score an attempt."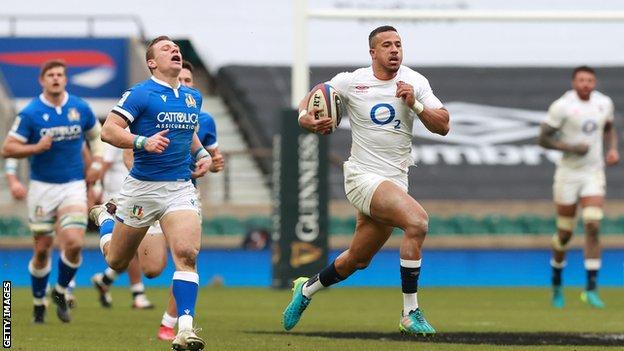 On the other wing, Watson pushed alongside two defenders to score his first goal and impressively intercepted the ball for a second time.
His efforts were also commendable from Jones, who said that Watson "looked sharp" and "is back to his best."
But the parts that won't make the editor's opinion are those that must now be examined by Jones and his team with a round trip to Cardiff looming in the next two weeks.
May and Watson seized their opportunity when they could, perhaps knowing that they would have less time on the ball against tougher defenses if England returned to the frequent kicking game.
After Wales' dramatic victory in Scotland, the defending champions had the opportunity to reignite their title hopes with a third-round victory.
Just as the Six Nations Cup and Fall Nations Cup in England provided some solace to fans tired of tumultuous play in 2020, May and Watson was a welcome distraction from some aspects of the hosts' game on Saturday.
But – with or without fans – a trip to the principality is an incomparable mission to face Italy at Twickenham.
By the time England crosses the Severn Bridge, the May and Watson tournaments will be forgotten. Victory is all that matters.