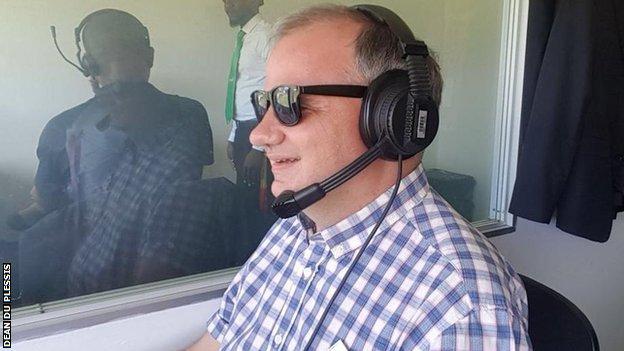 Ramie delivery gnaws, batsman feet shuffling, willow crunch.
These sounds – which often go unnoticed by cricket fans – are all that commentator Dean de Plessis needs to convey to his fans what is happening.
The 44-year-old Zimbabwean, who was born with tumors behind the retina, is the first visual impaired commentator to cover international cricket.
"Voice-over is nothing amazing," he says humbly.
"I have a torso microphone feed, no other technology, and just listen very carefully; as much as sighted people pay close attention to what they see, that's what I do."
Speaking to BBC Sport, Du Plessis explains the origins of his love of cricket, his journey into the comment box and the techniques he uses when calling the action.
Falling in love with the sound of cricket
Du Plessis is a true cricket lover, and his commentary is often supplemented with the most mysterious stats from past years.
But he wasn't always a fan of the sport.
"My brother Gary was a very good cricketer, but I didn't understand the game when I was young," he says.
"Nobody took long to explain cricket to me and I hated it and hated it with passion."
Du Plessis was born in Harare, and later went to study at a boarding school in South Africa where his association with cricket was first demonstrated.
In 1991, South Africa traveled to India in what marked her readmission into international cricket with the end of the country's apartheid regime.
"I was listening to the third game in the series on Radio 2000, which is the equivalent of the South African Test Match Special," says de Plessis.
"All I heard was noise, that's all I could describe. It was just the sound of about 60 or 70,000 Indian fanatics chanting and setting off fireworks constantly.
Mysteriously, through the noise of cheering and fireworks far away, you could hear a commentator trying to tell you what was going on and I didn't understand what he was saying.
"It was something like" Donald comes to Tendulkar, through the square leg, after the referee, all the way to the back square leg, the player picks up and practices it for one. "
"I knew very little about cricket but I didn't know about the square leg and things like that.
"But I started to really listen and enjoy it. I don't know why because I didn't understand what they were saying, but every time it went on for four or six, I got excited."
Contacting cricket stars and being "a pest"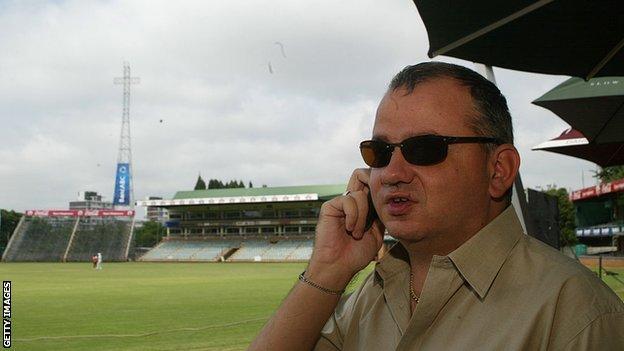 As Du Plessis' passion for the game grows, he embarks on a mission to reach his new heroes.
While a modern sports fan might message Ben Stokes or flag Jofra Archer, Du Plessis will simply search for Zimbabwean cricketers in the local phone book.
"I will then get their number and phone using a call box from the school, hoping my money doesn't run out and I just want to talk to these players," he says.
"I was a real pest and the main poor victim was Archer Edo Brands, he was a chicken farmer and sometimes I would call him after I finished school at 8 PM and he had to literally wake up with the chicken at 3 or 4" clock in the morning.
"He was a bit grumpy at first but as soon as he woke up he was very ready to chat. I also used to call Alastair Campbell who was very nice to me as were the two Flower brothers, Grant and Andy."
But it was David Hutton, the former Zimbabwean batsman – now Derbyshire's coach – who De Plessis really made a friendship with.
"Dave was just a fountain of information, but what I really appreciated was that he not only answered my questions, he was asking me everything about me, too," says de Plessis.
"As soon as I ran out of money and asked for my phone number to call me back, we talked for 20 minutes."
From fan to commentator
After completing his studies, Du Plessis returns to Zimbabwe with a network of superhero cricket friends.
"It was the cricketers – the Flower Brothers, Houghton, Campbell, Brands – who made me feel very welcome and invited me to come watch them play," he says.
Du Plessis soon became a regular on the national territory, and after being given freedom to roam the media centers, he was rubbing his shoulders with broadcasters and the cricket press.
During a triangular international streak between Zimbabwe, India and the West Indies in 2001, he was invited to join journalist Neil Manthorpe, who was an old school friend, and former Indian batsman Ravi Shastri in a 15-minute conversation on the Cricinfo internet radio.
Du Plessis' knowledge and enthusiasm impressed both the broadcast team and those who returned to headquarters.
"It was supposed to be just a short conversation about enjoying a game of cricket, but Neal got an email from the office halfway through," he says.
"The producers wanted to keep me a full 30 minutes and make sure that I was part of the rest of the series.
"And that's pretty much how I started my comment. Then I got my first TV gig for two years."
How does he do that?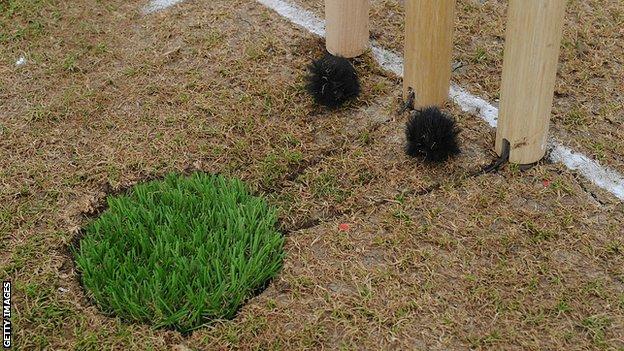 De Plessis is often asked how he was able to determine what was happening on the field.
He replied, "Well, I don't have any additional technology, an extra microphone, or anyone to tell me what's going on."
"I can tell you who the different bowlers are the way they approach the curl.
"With Stuart Broad, for example, there's a little bit of a drag when the ball is delivered, it makes an explosive sound when it hits the wicket.
"Some approach the crease very softly, such as Freddy Flintoff who barely makes a sound, while Shane Warren, as a spinning player, was suffering from a great grunt."
Du Plessis can also determine the hitting hitting by the sound of their own voice, and the direction in which the ball hits the noise it makes from the racket.
"In terms of hitting, you just have to listen very carefully to how the hitters communicate with each other," he says.
When Andrew Strauss and Marcus Treskothek used to hit together, Treskothek would always say "run" when he hit the ball while Strauss said "Yes, come on, come on, come on."
And when the ball is hit from the other side, it has a very sharp cracking sound, unlike a ball played through the side of the leg.
"I can also tell when scanning shots are playing because you can hear the sound of the bat hitting the floor with a scraping sound."
'I think I found my place'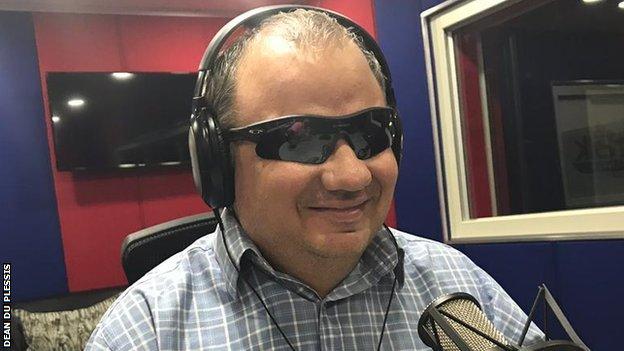 Du Plessis has enabled his cricket career as a broadcaster along with being able to recognize people through sound, touch and smell to create a successful career as a broadcaster.
Cricket podcast presenter says his explainer work may need to be seated in the back seat for health reasons.
"I think I will have to do less commenting and this is mainly due to the fact that I have lost a great deal of my hearing, especially in my left ear," he explains.
"This seems to be common with blind people because we use our ears so enthusiastically.
"But I think I've found my place in hosting, presenting podcasts and making podcasts. I would like to advance my broadcasting career and perhaps emigrate from Zimbabwe, ideally to a country that plays cricket."