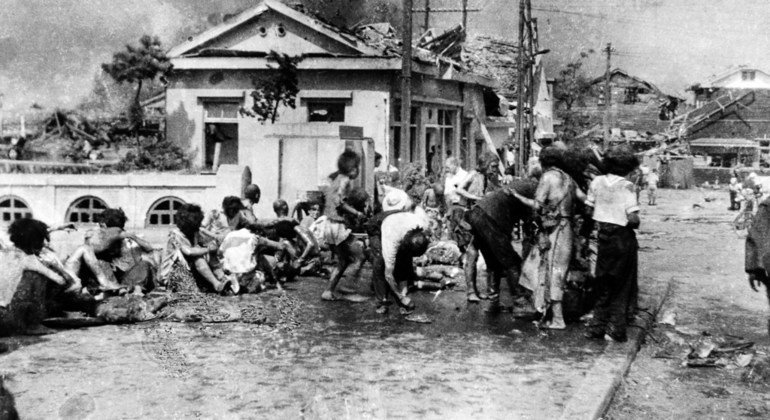 "The only guarantee against the use of nuclear weapons is their complete removal," he said in a video message to the Hiroshima Peace Memorial in Japan, which was held Friday morning local time.
76 years ago, a nuclear weapon caused unimaginable suffering, death and devastation to the people of Hiroshima.

Such a tragedy should not happen again.

the @a – and I personally – remain fully committed to the goal of a world free of nuclear weapons. pic.twitter.com/AjFzu8pnuv

– Antonio Guterres (@antonioguterres) August 6, 2021
The annual celebration commemorates the August 6, 1945 atomic bombing of the city during World War II. The Secretary-General of the United Nations noted the impact.
"On this day seventy-six years ago, a single nuclear weapon caused unimaginable suffering to the inhabitants of this city, killing tens of thousands of people on the spot, tens of thousands in its wake, and much more in the following years," He said.
common vision
But he added that Hiroshima is not determined solely by the tragedy in which it occurred.
"The unparalleled call to survivors, and hibakushatestament to the resilience of the human spirit, said the Secretary-General. "They have dedicated their lives to sharing their experiences and campaigning to make sure no one else suffers their fate."
Mr. Guterres said that the United Nations is participating in hibakusha The vision of a world free of nuclear weapons, which was the subject of the first-ever General Assembly resolution, passed just five months after the bombing, while the Treaty on the Prohibition of Nuclear Weapons entered into force last January.
He expressed his deep concern about the lack of progress towards a world free of nuclear weapons.
Welcome first steps
"Nuclear-weapon states have modernized their arsenals in recent years, leading to a new arms race. But the decisions of the Russian Federation and the United States to extend the New START Treaty, and to engage in dialogue on arms control, are welcome first steps toward reducing the risk of nuclear catastrophe. .
The Secretary-General called on states that possess nuclear weapons to take action to reduce risks, both individually and collectively "We can never take the rule against the use of nuclear weapons for granted."
He also urged governments to use The Tenth Review Conference of the Treaty on the Non-Proliferation of Nuclear Weapons to reinforce their commitment to a world free of nuclear weapons.
The conference was originally scheduled to start in April 2020 but was postponed due to COVID-19 pandemic. It must now take place no later than February 2022.